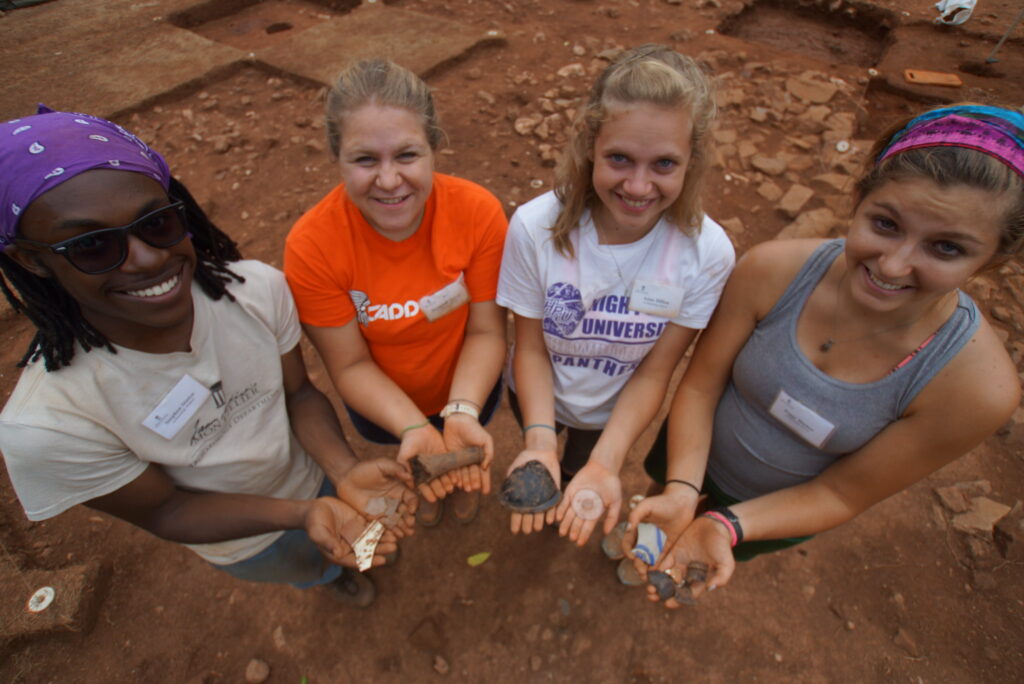 CHP coordinates with local institutions, non-profit organizations, and community groups to offer numerous and varied research opportunities to WFU students. The opportunities range from independent research and writing to participating as a team member on grant-driven and on-going preservation projects. See below for opportunities to volunteer, earn academic credit, or secure paid positions in the fields of cultural resource management, historic preservation, and digital heritage.
---
CHARG: Cultural Heritage and Archaeology Research Group
Cultural Heritage and Archaeology Research Group (CHARG) is a research group supported by the Office of the Dean of the Undergraduate College and the Cultural Heritage and Preservation Program, focused on working collaboratively with institutions and communities to build accessible tools, trainings, and resources to make archaeology a more useful and accessible resource for the public at large. CHARG will give students broad experience in GIS, cemetery documentation and restoration, historical document transcription and database management, among other things. Students could do a little bit of everything, or focus on something specific they are really interested in. Available for 1, 2, or 3 credit hours. Interested students should reach out to Terry Brock (brockt@wfu.edu) for more information or see the position descriptions below.
CHARG Projects Assistant: Advanced undergraduate needed to help supervise a handful of digital heritage projects. Primary projects are historical projects involving Omeka databases and African American history, and range from cemetery project at Africatown in Mobile, Alabama, and at Odd Fellows Cemetery in Winston-Salem, and with the Wake Forest Historical Museum. Support for GIS projects may also be possible. Please see the job description here.
CHARG Undergraduate Research Position: Undergraduate students needed to work approximately 6-9 hours a week on GIS, cemetery, and documentary research projects. Currently, these funds are only available for the semester, so interested students should send Terry Brock (brockt@wfu.edu) an email as soon as possible. Some experience with GIS, interest in fieldwork, or some archaeology experience preferred for these positions, but not necessary.
---
Historic Stagville
Historic Stagville is on the site of one of North Carolina's largest plantations (near Durham). Student interns will interpret the history of slavery at the site and complete an independent project. Email Dr. Lisa Blee (bleelm@wfu.edu) for more information.
---
Unmarked Initiative
Contribute to the Unmarked Initiative: Map historic African American cemeteries and contribute to preservation efforts. Volunteer, paid, and internship opportunities available. Visit website for more information.
---
Reynolda House Historic Structure Report
Contact Lisa Blee (bleelm@wfu.edu) for more information and scheduling. Also available for academic credit (1.5 credits). More information about the report here.
---
Elk Spur Church and School National Register of Historic Places Nomination
Located at 715 Elk Spur in Fancy Gap, VA 24328 (about 1 hour from WFU)
The Church (and its mirror image school) was built in 1924. Missionary Iola Hedgepeth was sent from Elon College to start a school and a church. As we approach the 100th anniversary of our building we would like to invite a student to consider writing a National Register nomination for the church. We have no funds for this, but would support their research by sharing materials gleaned in the writing of a book to celebrate the 100th anniversary. Contact Lisa Blee (bleelm@wfu.edu) for more information.